Windsor paces Northern Colorado building boom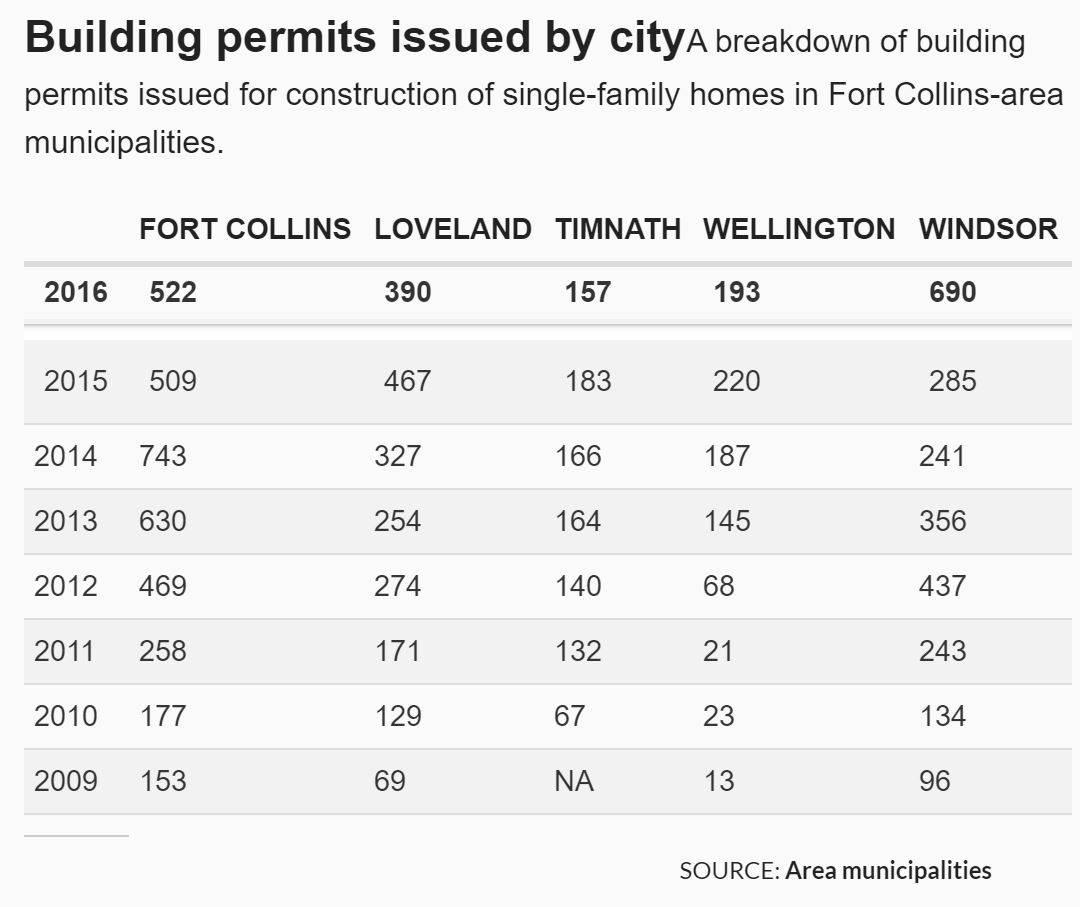 By Pat Ferrier, Coloradoan
New home construction in some parts of Northern Colorado leveled off in 2016 due in part to a lack of affordable and available building lots. But that doesn't mean there's a dearth of building activity on both sides of Interstate 25 as area communities struggle to keep up with housing demand.
In some communities like Windsor, developers hit the gas last year and show no sign of letting in 2017. The town issued 690 single-family building permits last year, more than doubling the permits issued by the town in 2015 and 2014 and exceeding the number of permits issued by much larger Fort Collins and Loveland.
"Windsor is geographically very well located for families to live there and work in Fort Collins, Greeley or Loveland, and it's a beautiful community," said Larry Kendall, co-founder of The Group Real Estate. "People are recognizing it not only as a second choice, but as a first choice.
Buildable lots are more plentiful in Windsor than in Fort Collins and the town has been able to produce a mix of mid-range and higher-priced homes, Kendall said.
While Windsor is going full speed, Fort Collins, Loveland, Timnath and Wellington's single-family permits held about steady or dipped slightly between 2015 and 2016.
Town planner Scott Ballstadt said Windsor saw subdivisions including The Village East, Winter Farm's third filing and Pelican Farms come online that "probably served a pent-up demand."
Village East, with 290 lots west of and adjacent to Weld County Road 21 and north of Highway 392, came online last year and sold out quickly, he said.
With prices ranging from the low-$300,000s to the mid-$400,000s — in line with regional median home prices — buyers who may have been put off by Windsor's average sales price of about $410,000 took a second look.
"Windsor is just killing it," said Greg Miedema, executive officer of Home Builders of Northern Colorado, or NoCo HBA. "It's not hot because of entry-level (buyers)," he said, but more expensive subdivisions such as Water Valley and Highland Meadows.
"I don't want to call it a bedroom community, but Windsor is where you want to live if you want to be in Fort Collins but not live there," said Miedema, whose office is in Windsor. "It's still easier to build in Windsor than Fort Collins."
Windsor's robust pipeline
While Fort Collins and Loveland suffer from a lack of ready lots, Windsor has 1,856 lots remaining in 31 subdivisions. Only 589 of those were permit-ready at the end of January, according to town reports, but the pipeline is robust.
"As current subdivisions start running out of lots we are just starting on The Ridge at Harmony Road and Raindance," Martin Lind's 2,800-unit subdivision based around agriculture, sustainability and golf, Ballstadt said.
Considered a successor to Water Valley, which is nearly built out, Raindance is at the corner of County Road 13 and Crossroads Boulevard, east of Interstate 25 in Windsor.
A lack of affordable and available lots is driving all new residential construction, said Eric Holsapple of LC Real Estate Group, which is developing homes in Loveland and Fort Collins. The company is building out its Spring Creek and Story Book projects in Fort Collins and 48 lots at Mariana Butte golf course in Loveland.
"It's really hot, but we're looking where the next place to go is and it's slim pickings," Holsapple said. "It's either hundreds of acres that take a lot of infrastructure" or lots that are slow to be brought to market. As inventory wanes, the cost of new lots, including water, continues to rise.
The next round of lots are selling for $100,000, up from about $60,000 to $75,000, fueled by soaring water costs.
LC Real Estate has found 36 acres east of Interstate 25 and south of Mulberry Street that it intends to buy from Fort Collins developer Les Kaplan, who abandoned plans to build Fox Grove. Holsapple said he anticipates building about 75 homes on the site, including some two-story projects. "With the cost of land, we have to go to a little bigger home," he said.