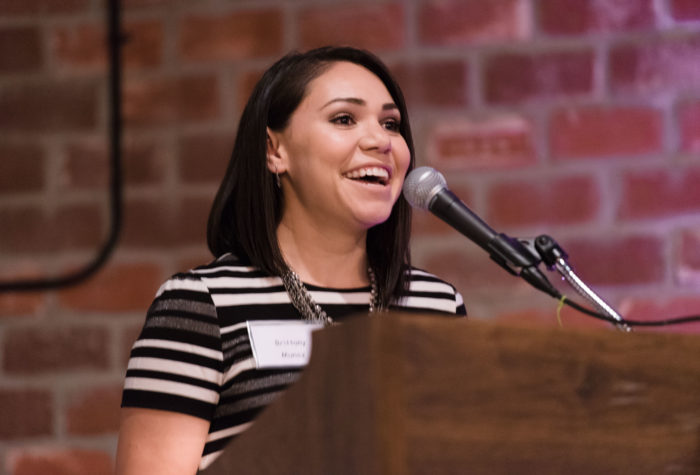 LOVELAND - On Thursday, Sept. 7th, at The Garden Room in Loveland, the Loveland-Berthoud Association of Realtors (LBAR), welcomes a new board into office at its annual Installation and Awards dinner. Awards given that evening were Affiliate of the Year, Realtor of the Year, Rookie of the Year, as well as Introducing the incoming Board of Directors for 2017-2018. The Rookie of the Year award for 2017 was given to Brittany Munoz with LC Real Estate Group.
The LC Real Estate Group team consists of talented people with over 80 combined years of experience in real estate brokerage, development, property management, marketing, financial analysis, and administration. The team is committed to improving the quality of life in Northern Colorado, where its members live, work, and raise their families.
In 2016, the name was changed to represent the firm's broader role as an integrated real estate company. With Partners and Brokers Eric Holsapple, Blaine Rappé, Nathan Klein, Wayne Lewis, Nick Galluzzo, and Rollin Goering along with an experienced support staff, a variety of real estate aspects are provided. "LC Real Estate Group is able to perform all the functions of the real estate transaction from project introduction to the day of closing," Klein says. He explains that a strategic plan is tailored for each project, placing an emphasis on a high level of personal contact with users, investors, developers and brokers at the local and regional levels. "Through our proprietary database of properties, tenants, brokers, and investors, we are able to have highly targeted direct marketing campaigns that focus on finding the most qualified users or investors for any property."
LC Real Estate Group Aspects
Commercial Development
"With both Thompson Valley Towne Center, North College Marketplace, we started from scratch," Klein says. "We bought the land, got it entitled and built the buildings. That's just one example." LC Real Estate Group has also taken over the Safeway complex on Mulberry and College in Fort Collins and has renovated and re-tenanted. Additionally, a property in Lakewood on the corner of Jewell and Wadsworth is currently in the works. "We bought out the Albertsons lease and right-sized the area for Rite Aid according to their specifications," Klein says. "We have a lease with ARC Thrift Store and a land lease with Auto Zone." It's again an example of taking an under-utilized center and making it more appropriate for the neighborhood needs.
Investment and Management
On several occasions, property has been purchased and improved. "We often found these properties to be under-utilized and so, when we bought them, we would renovate, re-tenant, and work to increase the value." Their new office is a prime example. LC Real Estate Group purchased the 28,000 square foot property at 1712 Topaz Drive near U.S. Highway 34 and Boise Avenue in December of 2014. After renovation, LC Real Estate Group moved its 21 employees and partners into the west end of the building, inhabiting 4,000 square feet of the complex. It has since contracted with other tenants to complete the plan.
LC Home
This arm of LC Real Estate Group provides two different options. The first will be to provide the engineering, entitlement with the involved city and the horizontal (roads and utilities) construction and then offer the lots for development. Klein references the Ridge at Mariana Butte project which offers rare infill development at the world renowned Marianna Butte Golf Course. These will be development ready lots. The second option would also include the vertical (the houses) construction as appropriate.
Brokerage
"What sets us apart here is that we come to brokerage with significant experience in commercial real estate, investment and development, and residential areas," Klein says. The LC Real Estate Group team has such a broad expanse of experience that helps them help their client regardless of the project or need. "We can hold our client's hand through the entitlement process and on through. It's not so much transaction centered but more client centered." And, with the new structural organization, there's more flexibility. "With the rebranding we have empowered our residential sales people from LC Homes to do third party residential property sales." Previously they sold homes built by LC Homes and referred other listings to an outside realtor. "Now we can handle both sides of that. We can handle the sale of our property and, if the client is selling their current home to move into ours, we can also handle that."
The bottom line for LC Real Estate Group's new position is having the ability to work with the client on whatever the need might be; commercial or residential. "We have so much more flexibility and the opportunity to service the whole client is huge. It's very exciting."
Project Qualifications
LC Real Estate Group possesses nontypical experience in a number of areas that make it uniquely qualified to assist in the sale of certain listings and development projects.
Economic Development
The principals have extensive experience working with ED professionals and understanding complex economic development strategies. Founder Don Marostica served as the Director of Economic Development and International Trade for Colorado until January 2011; Eric Holsapple has a Ph. D in Economics and served as Chair of the Northern Colorado Economic Development Corporation (NCEDC) in 2007. He was selected to serve on the Board of CSU's Regional Economics Institute in 2011. Nathan Klein is actively involved with the Loveland Chamber of Commerce and was chairman of the board in 2013. Rollin Goering joined the Chamber Board in 2016.
Political Experience
LC Real Estate Group has unmatched experience working with legislature, state, national and local entities to promote bills, or secure funding for projects including the use of Urban Renewal Areas and Tax Increment Financing. Its team has worked on dozens of projects with city staff and maintain continuous working relationships with them.
University Experience
LC Real Estate Group has extensive experience working with universities in many arenas including teaching, research and founding, directing and helping to secure funding for the Everitt Real Estate Center at CSU. As Chair of the NCEDC, Holsapple negotiated an agreement that brought a regional economist to CSU. LC Real Estate Group remains active in the Everitt Real Estate Center and maintains a booth to expose company listings at each of the regional real estate events.
Negotiation Expertise
With more than 80 years of combined development and brokerage experience, partners and brokers have negotiated deals with companies ranging from IBM to Mobile Oil to King Soopers/Kroger and totaling several hundred transactions with a transaction value totaling several hundred million dollars.
Financial Expertise
The company prides itself on being one of the most analytical financial experts in the business. Its team has multiple degrees in economics, finance, real estate, and accounting and understands the unique aspects of what it takes to make a deal feasible. LC Real Estate Group's experience with public/private partnerships and unique financing mechanisms forms a unique background for financing large projects.
LC Real Estate Group may have started small but, in 20 years, it has blossomed into an impressive operation. It began when Don Marostica and Eric Holsapple connected over common interests. "I took a sabbatical after I received my PhD in economics from CSU," Holsapple says. "I met Don, moved into his conference room and went to work. I started helping out with financing on a few projects and we hit it off."
Deciding to partner officially, they purchased Moore Commercial, and changed the name to Loveland Commercial LLC, creating a real estate development and brokerage company. The vision was to improve the quality of development in Northern Colorado. Blaine Rappé joined them the next year.
Over time, Holsapple says, three segments evolved. "We were doing mostly established development and then added brokerage. The investment and management piece began in 1999 with Thompson Valley Center. It was our first big commercial investment. We were doing mostly what I call horizontal development. We put in the roads and streets and sold lots to developers."
Nathan Klein joined them in 2004 as a CSU intern and, shortly after graduation, began full time work. "In 2005, Nathan began his work and grew the brokerage business by five times what we used to do," Holsapple says.
But times changed and so did the company's focus. "In 2006 and 2007, building basically stopped and builders reorganized. We still had 150 lots and no one interested in building on them.
So, in 2008, we created Midtown Homes and began with Boise Village North," he explains. Since then, this arm of the company has built a variety of houses, including significant entry-level and affordable neighborhoods such as Pine Tree Village.
The winds of change once again shifted and the partners were faced with a new direction. In 2009, they were called upon to develop North College Marketplace in Fort Collins. More opportunities developed and the company's efforts expanded. In fact, over the past two decades, the firm has had an impressive impact. It has completed two King Soopers shopping centers (one in Loveland and one in Fort Collins), developed more than 2,500 residential lots and built almost 500 homes, including ongoing projects in Tulip Creek in east Loveland, Spring Creek in Fort Collins and Fox Run in Greeley. In addition, it has expanded its investments and developments into the Denver area and Colorado Springs.
The partners of Loveland Commercial LLC began to look at the broader view of what they had to offer. "We are clearly a regional player in the marketplace," Holsapple says. "And we realized that we needed to match our image to the reality of our work."
The firm's name was changed to LC Real Estate Group LLC to lead to better recognition and acknowledge all the components of the business. Midtown Homes, for example, is now LC Home and part of the same company.
"With different names for the residential and commercial divisions, they appeared to be different companies," Klein says. "But, now, on every company vehicle and/ or commercial and residential project or listing, the LC Real Estate logo will appear. Not to mention we are now positioned to take care of the entirety of a client's real estate needs, regardless of whether that is commercial or residential in nature."
Earlier this year, the firm moved into 4,000 square feet of a 28,000-square-foot building it owns at 1712 Topaz Drive near U.S. Highway 34 and Boise Avenue. After remodeling the interior, LC Real Estate Group moved its 21 employees and partners into the west end of the building in early March.