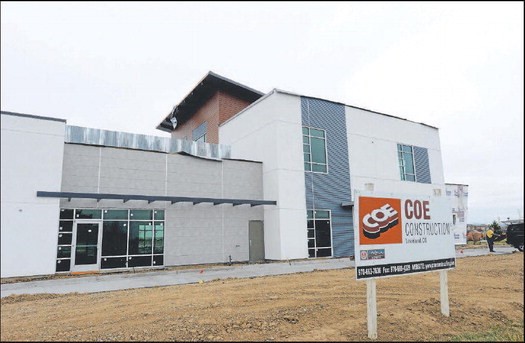 Inta Juice Building Nearly Finished
Location in front of Mountain View High School could house 5 businesses, including 2more restaurants
BY CRAIG YOUNG
The new two-story building in front of Mountain View High School that will house an Inta Juice smoothie shop should be finished in about two weeks, its owner said Thursday. Then the juice bar with drive-thru lane will open for business between Thanksgiving and the end of the year, according to Rob Woodward. He and his wife, Paula Woodward, own the Inta Juice at 2997 N. Garfield Ave. in Loveland and the Inta Juice national franchise company with two partners. The Inta Juice shop will take up just 1,500 square feet of the 10,000-square-foot building that Woodward is constructing at 3625 Mountain Lion Drive. He said he is working on leasing out the rest of the building. "Nothing is signed today, but we are negotiating with two restaurants," he said.
The building will hold five businesses, Woodward said, including Inta Juice, two other restaurants, a retail business and possibly a fitness center with which he is negotiating. Inta Juice sells primarily fruit smoothies and breakfast bowls, which are thicker blended concoctions that are eaten with a spoon, as well as fresh squeezed vegetable and wheatgrass drinks. Woodward said he bought the Inta Juice brand about seven years ago, which he and his wife and the owners of the Longmont and Greeley Inta Juice locations own.
Including franchise locations that he said he inherited, Inta Juice has eight locations not counting the new one, including shops in Wyoming, Arizona, Minnesota and Arkansas. He said the owners of the franchise company just completed the legal paperwork to allow them to start selling franchises again.
Woodward, who is part-owner of the shop in Cheyenne, said he is looking for two sites in Fort Collins and plans to open a location in Berthoud in the next year or two.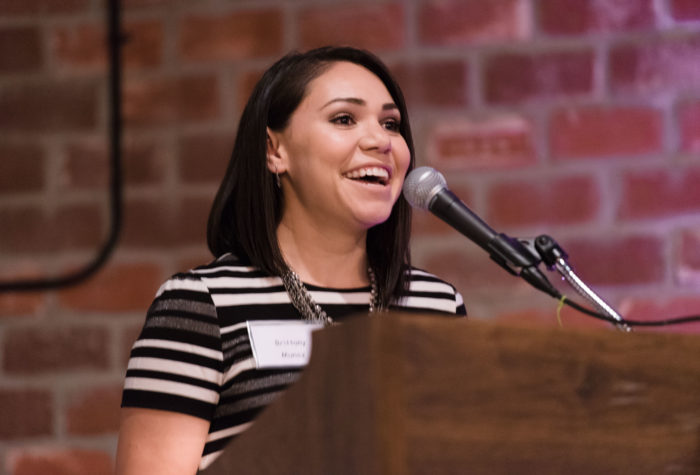 LOVELAND - On Thursday, Sept. 7th, at The Garden Room in Loveland, the Loveland-Berthoud Association of Realtors (LBAR), welcomes a new board into office at its annual Installation and Awards dinner. Awards given that evening were Affiliate of the Year, Realtor of the Year, Rookie of the Year, as well as Introducing the incoming Board of Directors for 2017-2018. The Rookie of the Year award for 2017 was given to Brittany Munoz with LC Real Estate Group.
"Northern Colorado, including Fort Collins, Loveland and the Denver-metro area, is leading the nation in green energy innovation," comments Rollin Goering, partner and regional sales manager for LC Homes (formerly MidTown Homes), a notable ENERGY STAR builder.
"As a state, we have a focus on green energy," says Goering. "We're being watched to see how we are building responsibly. Plus, to be energy efficient is to be competitive in the market."
And since the market is ultimately all about people searching for a place to call their own, feel comfortable in and treat like an oasis from the rest of the world, LC Homes concentrates on the human element. They sincerely make an effort to find out what the client's needs are.
"We like to ask our customers what it is they are looking for? What features do they have in their current home that they would like to repeat or would prefer to change? These kinds of questions give us insight as to what they really want. In fact, the number one thing I'm most proud about with our company is that our construction details are based on buyer feedback, which we take into account and then implement with future designs. We also ask our customers if they would like to see the ENERGY STAR features? In that way we show the quality details rather than just talking about them," says Goering.
"Another thing we bring to the table is that all of our agents are EcoBroker certified, so there's education behind what we do," continues Goering. EcoBroker is considered the premier green designation for real estate professionals.
WHAT IS ENERGY STAR?
ENERGY STAR is a U.S. Environmental Protection Agency voluntary program which assists businesses and individuals in an effort to save money while offering environmental protection through superior energy efficiency.
The current benchmark is ENERGY STAR 3.0. Those standards have evolved consistently throughout the past 20 years, translating to greater savings to homeowners over the lifetime of their house.
"This is how we build our houses," says Goering. "The benefit to buyers is less utility costs."
In addition, LC Homes boasts a Home Energy Rating System (HERS) index consistently below 50, depending on the model of the home. The national average comes in at around 70.
"It's kind of like a golf score. Lower is better," says Goering.
WHAT THIS MEANS FOR YOU AS A HOMEBUYER?
That's all well and good, but what do those numbers actually mean to you as a consumer looking for the best path to sustainable homeownership?
LC Homes has a long list of energy efficient facets included in the dwellings they build.
"We provide 2x6 exterior walls, which equates to more insulation. They minimize sound and outside noise as well as too much solar heat gain in the summer. It's really easy to differentiate from most other builders without ENERGY STAR, who compare with 2x4 walls," says Goering.
Besides walls, though, the list is extensive.
"We utilize blown-in insulation, e-glass white vinyl windows, energy efficient furnaces, tankless water heaters and low-flow toilets. This last item seems like a small thing but is really important to Northern Colorado buyers because of the ongoing water availability issues."
According to Goering, one of the items potential buyers are most impressed by is that LC Homes provides HERS certificates upon purchase and a Home Energy Rating Certificate from an independent third party rater verifying the home has meet all of the ENERGY STAR standards. This certificate is given only to ENERGY STAR homes. "This is proof of the quality of what they are getting, both for the home buyer's satisfaction as well as for resale value," added Goering.
"Up and coming features to look for include more solar capability as well as Smart Homes," says Goering, referring to homes with more technological advances such as motion-sensor lighting and thermostats that are programmable from your cell phone."
But, according to Goering, "the affordability factor right now prevents them from being included as standard features."
DEMOGRAPHICS
"The price point of these types of homes is $350,000 to $450,000, so we're not seeing many first-time buyers. Rather, move-up buyers, which includes families looking for a larger home with more space, or retirees who are downsizing and want a high-quality smaller home are the clientele purchasing most of our ENERGY STAR homes," says Goering.
Women overall have become big drivers in today's real estate economy.
"Mothers who are leading a household appreciate homes with ENERGY STAR features because it makes that effort of budgeting easier on families. And we've actually seen quite a few single women purchasing homes as well."
WHERE TO FIND YOUR PERFECT ENERGY STAR HOME BUILT BY LC HOMES?
Several types of settings are offered, each with unique characteristics utilized to cater to residents searching for distinctive attributes.
"Each community has a lifestyle we're building around," adds Goering. The various neighborhoods differ in amenities and price range, yet the superior value remains consistent.
"Currently, 100% of our homes are E.S. certified," says Goering. "I absolutely believe building homes to the ENERGY STAR standards gives us an advantage in the marketplace. It gives us a differentiator and is a confidence builder. We're not just saying we build quality homes, but showing that we do."
Consumers are able to verify that information in many ways.
"By looking up the local MLS system for real estate, you can upload that certification. It is a big aid in the search for an ENERGY STAR home," says Goering. LC Homes also promotes their products by providing individualized brochures on each home model. Current listings for LC Homes can be found on the NOCO ENERGY STAR website as well.
RESIDENTIAL COMMUNITIES
Storybook

Located in Fort Collins, offers single family homes with yards as well as low or no maintenance patio homes.

Spring Creek

Also located in Fort Collins, is currently under construction.

Tulip Creek

Located in Loveland, starting at the mid-300ʻs.

The Ridge

Near Marianna Buttes in Loveland, offers higher-end homes.

Fox Run

Located in west Greeley.