"Northern Colorado, including Fort Collins, Loveland and the Denver-metro area, is leading the nation in green energy innovation," comments Rollin Goering, partner and regional sales manager for LC Homes (formerly MidTown Homes), a notable ENERGY STAR builder.
"As a state, we have a focus on green energy," says Goering. "We're being watched to see how we are building responsibly. Plus, to be energy efficient is to be competitive in the market."
And since the market is ultimately all about people searching for a place to call their own, feel comfortable in and treat like an oasis from the rest of the world, LC Homes concentrates on the human element. They sincerely make an effort to find out what the client's needs are.
"We like to ask our customers what it is they are looking for? What features do they have in their current home that they would like to repeat or would prefer to change? These kinds of questions give us insight as to what they really want. In fact, the number one thing I'm most proud about with our company is that our construction details are based on buyer feedback, which we take into account and then implement with future designs. We also ask our customers if they would like to see the ENERGY STAR features? In that way we show the quality details rather than just talking about them," says Goering.
"Another thing we bring to the table is that all of our agents are EcoBroker certified, so there's education behind what we do," continues Goering. EcoBroker is considered the premier green designation for real estate professionals.
WHAT IS ENERGY STAR?
ENERGY STAR is a U.S. Environmental Protection Agency voluntary program which assists businesses and individuals in an effort to save money while offering environmental protection through superior energy efficiency.
The current benchmark is ENERGY STAR 3.0. Those standards have evolved consistently throughout the past 20 years, translating to greater savings to homeowners over the lifetime of their house.
"This is how we build our houses," says Goering. "The benefit to buyers is less utility costs."
In addition, LC Homes boasts a Home Energy Rating System (HERS) index consistently below 50, depending on the model of the home. The national average comes in at around 70.
"It's kind of like a golf score. Lower is better," says Goering.
WHAT THIS MEANS FOR YOU AS A HOMEBUYER?
That's all well and good, but what do those numbers actually mean to you as a consumer looking for the best path to sustainable homeownership?
LC Homes has a long list of energy efficient facets included in the dwellings they build.
"We provide 2x6 exterior walls, which equates to more insulation. They minimize sound and outside noise as well as too much solar heat gain in the summer. It's really easy to differentiate from most other builders without ENERGY STAR, who compare with 2x4 walls," says Goering.
Besides walls, though, the list is extensive.
"We utilize blown-in insulation, e-glass white vinyl windows, energy efficient furnaces, tankless water heaters and low-flow toilets. This last item seems like a small thing but is really important to Northern Colorado buyers because of the ongoing water availability issues."
According to Goering, one of the items potential buyers are most impressed by is that LC Homes provides HERS certificates upon purchase and a Home Energy Rating Certificate from an independent third party rater verifying the home has meet all of the ENERGY STAR standards. This certificate is given only to ENERGY STAR homes. "This is proof of the quality of what they are getting, both for the home buyer's satisfaction as well as for resale value," added Goering.
"Up and coming features to look for include more solar capability as well as Smart Homes," says Goering, referring to homes with more technological advances such as motion-sensor lighting and thermostats that are programmable from your cell phone."
But, according to Goering, "the affordability factor right now prevents them from being included as standard features."
DEMOGRAPHICS
"The price point of these types of homes is $350,000 to $450,000, so we're not seeing many first-time buyers. Rather, move-up buyers, which includes families looking for a larger home with more space, or retirees who are downsizing and want a high-quality smaller home are the clientele purchasing most of our ENERGY STAR homes," says Goering.
Women overall have become big drivers in today's real estate economy.
"Mothers who are leading a household appreciate homes with ENERGY STAR features because it makes that effort of budgeting easier on families. And we've actually seen quite a few single women purchasing homes as well."
WHERE TO FIND YOUR PERFECT ENERGY STAR HOME BUILT BY LC HOMES?
Several types of settings are offered, each with unique characteristics utilized to cater to residents searching for distinctive attributes.
"Each community has a lifestyle we're building around," adds Goering. The various neighborhoods differ in amenities and price range, yet the superior value remains consistent.
"Currently, 100% of our homes are E.S. certified," says Goering. "I absolutely believe building homes to the ENERGY STAR standards gives us an advantage in the marketplace. It gives us a differentiator and is a confidence builder. We're not just saying we build quality homes, but showing that we do."
Consumers are able to verify that information in many ways.
"By looking up the local MLS system for real estate, you can upload that certification. It is a big aid in the search for an ENERGY STAR home," says Goering. LC Homes also promotes their products by providing individualized brochures on each home model. Current listings for LC Homes can be found on the NOCO ENERGY STAR website as well.
RESIDENTIAL COMMUNITIES
Storybook

Located in Fort Collins, offers single family homes with yards as well as low or no maintenance patio homes.

Spring Creek

Also located in Fort Collins, is currently under construction.

Tulip Creek

Located in Loveland, starting at the mid-300ʻs.

The Ridge

Near Marianna Buttes in Loveland, offers higher-end homes.

Fox Run

Located in west Greeley.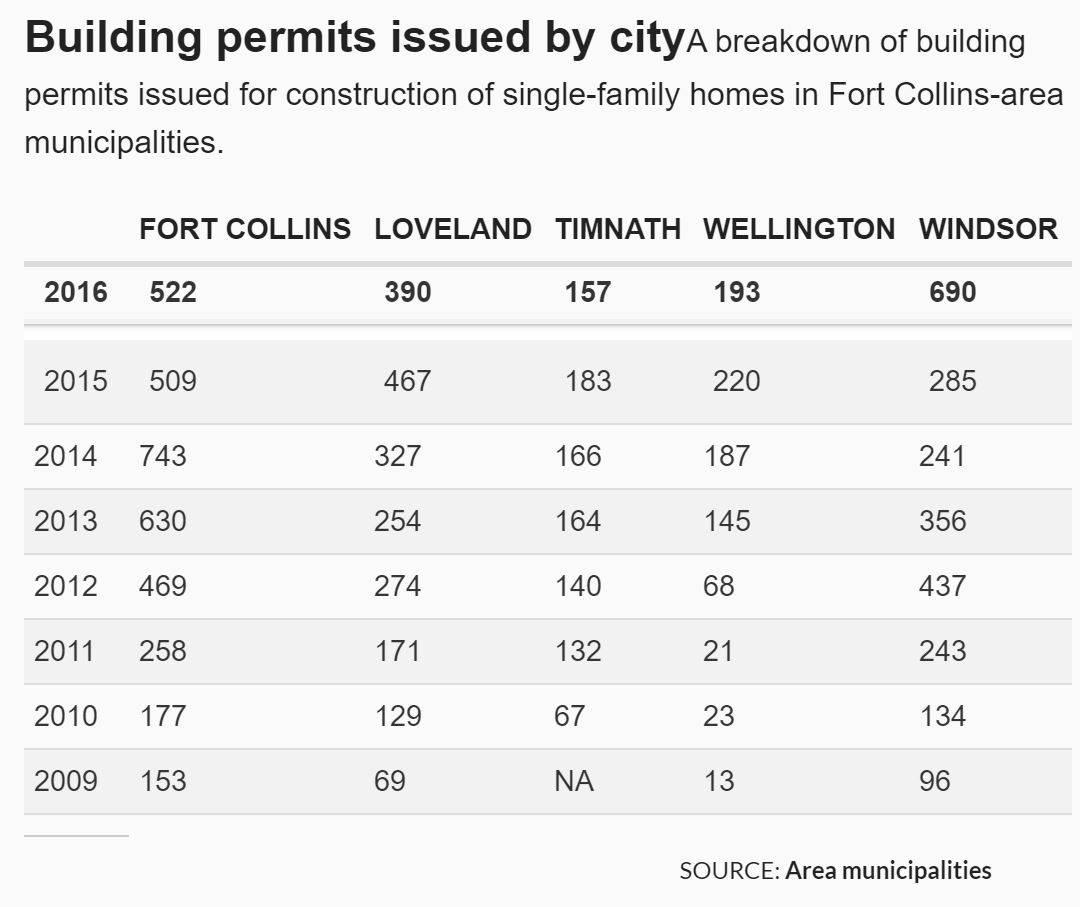 By Pat Ferrier, Coloradoan
New home construction in some parts of Northern Colorado leveled off in 2016 due in part to a lack of affordable and available building lots. But that doesn't mean there's a dearth of building activity on both sides of Interstate 25 as area communities struggle to keep up with housing demand.
In some communities like Windsor, developers hit the gas last year and show no sign of letting in 2017. The town issued 690 single-family building permits last year, more than doubling the permits issued by the town in 2015 and 2014 and exceeding the number of permits issued by much larger Fort Collins and Loveland.
"Windsor is geographically very well located for families to live there and work in Fort Collins, Greeley or Loveland, and it's a beautiful community," said Larry Kendall, co-founder of The Group Real Estate. "People are recognizing it not only as a second choice, but as a first choice.
Buildable lots are more plentiful in Windsor than in Fort Collins and the town has been able to produce a mix of mid-range and higher-priced homes, Kendall said.
While Windsor is going full speed, Fort Collins, Loveland, Timnath and Wellington's single-family permits held about steady or dipped slightly between 2015 and 2016.
Town planner Scott Ballstadt said Windsor saw subdivisions including The Village East, Winter Farm's third filing and Pelican Farms come online that "probably served a pent-up demand."
Village East, with 290 lots west of and adjacent to Weld County Road 21 and north of Highway 392, came online last year and sold out quickly, he said.
With prices ranging from the low-$300,000s to the mid-$400,000s — in line with regional median home prices — buyers who may have been put off by Windsor's average sales price of about $410,000 took a second look.
"Windsor is just killing it," said Greg Miedema, executive officer of Home Builders of Northern Colorado, or NoCo HBA. "It's not hot because of entry-level (buyers)," he said, but more expensive subdivisions such as Water Valley and Highland Meadows.
"I don't want to call it a bedroom community, but Windsor is where you want to live if you want to be in Fort Collins but not live there," said Miedema, whose office is in Windsor. "It's still easier to build in Windsor than Fort Collins."
Windsor's robust pipeline
While Fort Collins and Loveland suffer from a lack of ready lots, Windsor has 1,856 lots remaining in 31 subdivisions. Only 589 of those were permit-ready at the end of January, according to town reports, but the pipeline is robust.
"As current subdivisions start running out of lots we are just starting on The Ridge at Harmony Road and Raindance," Martin Lind's 2,800-unit subdivision based around agriculture, sustainability and golf, Ballstadt said.
Considered a successor to Water Valley, which is nearly built out, Raindance is at the corner of County Road 13 and Crossroads Boulevard, east of Interstate 25 in Windsor.
A lack of affordable and available lots is driving all new residential construction, said Eric Holsapple of LC Real Estate Group, which is developing homes in Loveland and Fort Collins. The company is building out its Spring Creek and Story Book projects in Fort Collins and 48 lots at Mariana Butte golf course in Loveland.
"It's really hot, but we're looking where the next place to go is and it's slim pickings," Holsapple said. "It's either hundreds of acres that take a lot of infrastructure" or lots that are slow to be brought to market. As inventory wanes, the cost of new lots, including water, continues to rise.
The next round of lots are selling for $100,000, up from about $60,000 to $75,000, fueled by soaring water costs.
LC Real Estate has found 36 acres east of Interstate 25 and south of Mulberry Street that it intends to buy from Fort Collins developer Les Kaplan, who abandoned plans to build Fox Grove. Holsapple said he anticipates building about 75 homes on the site, including some two-story projects. "With the cost of land, we have to go to a little bigger home," he said.
After years of little new development along Fort Collins' major gateways, planned apartment complexes are starting to pop up along I-25.
Las Vegas-developer CVRT has proposed 330 apartments on the southwest corner of Strauss Cabin and Harmony Road, just west of Interstate 25. It joins a similar project at the Prospect Road interchange, which is slated for 650 apartments, townhomes and single-family homes.
Harmony 23 sits on 23 acres, a near perfect triangle bordered by Harmony Road on the north, Strauss Cabin Road on the east and the Fossil Creek Inlet Ditch on the west. Multifamily development is pushing out to the interstate because of land availability and a mobile population that commutes among Northern Colorado's cities and towns, said Eric Holsapple, principal with LC Real Estate Group in Loveland.
"People work in one city and (live) in another ... and I-25 is the Main Street of Northern Colorado," he said, quoting Larry Kendall, founder of The Group Real Estate.
With land and water costs pushing Fort Collins home prices near $400,000, and a construction defects law hampering condo construction — often a lower-cost option for home ownership — many residents are still renting, Holsapple said.
Christopher Johnson, assistant director of the Everitt Real Estate Center at Colorado State University, said "a lot of people think of students when they think about apartments, but something like that near such a transportation avenue when you have a market that is functioning like ours might be going after an older group that would be buying but is now renting."
MORE ON BUILDING: With rooftops comes retail?
CVRT officials did not return requests for comment.
The site is in the city's employment zone, which required the developer to get a zoning modification to allow the site to be 100 percent residential rather than complementary to employment.
Harmony 23 is adjacent to about 236 acres being developed by longtime Fort Collins developer JD Padilla of Post Modern Development. Combined, the two projects would develop the entire southwest corner of Harmony Road from Interstate 25 to Strauss Cabin Road.
Padilla's project is largely retail and commercial, including a convenience shopping center in the first phase.
The final two phases of Padilla's project will likely include a hotel and 120,000-square-foot indoor sports complex that he would like to see supported by a sporting goods store, the only "big box" store slated for the property.
DEVELOPMENT
305 upscale apartments planned in north Fort Collins
If Harmony 23, Padilla's project and Gateway at Prospect all get built, they will transform the city's two most underdeveloped gateways within the next few years.
Despite a plethora of apartment projects in the works throughout the city, Fort Collins' rental vacancy rate remains less than 3 percent, according to the second quarter Colorado Multifamily Housing Vacancy and Rental Survey conducted for the Colorado Division of Housing.
Photo Courtesy VF Ripley Design