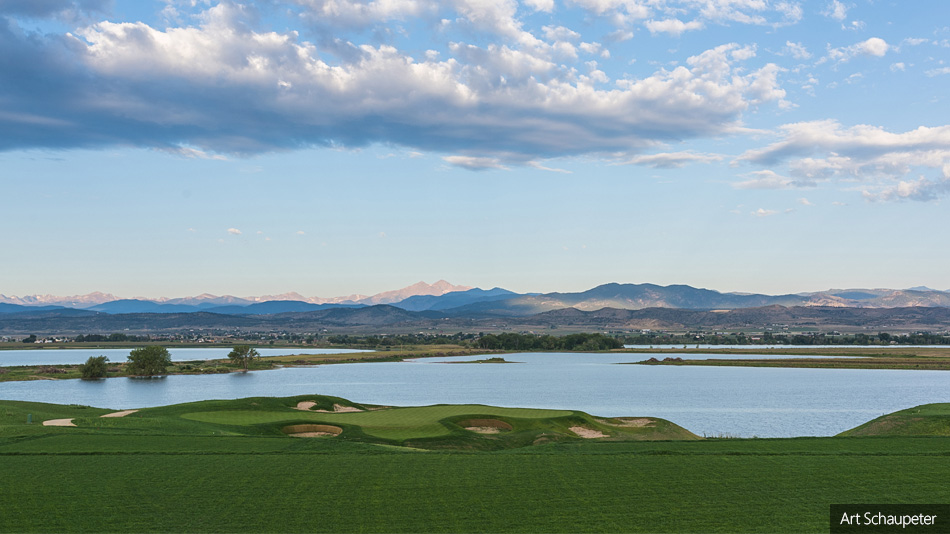 Lots of excitement has been surrounding the development of Northern Colorado's newest golf course. The new Berthoud TPC course is definitely in a league of it's own. It would only be fitting that the member price tag matches!
It's Summer 2018, and TPC Colorado members will soon have access to a 5,500 square feet clubhouse featuring a golf shop and cafe. In about a year (2019), TPC Colorado members will enjoy a 40,000+ square foot Clubhouse that will serve as a focal point for dining, hospitality and relaxation. Included in the clubhouse will be TPC Colorado's full-service Golf Shop featuring an assortment of golf apparel and equipment.
In addition to TPC Network championship golf, the development will include a residential neighborhood with new homes ranging anywhere from custom estates to a mix of townhomes and condos. Serving as an epicenter of the community, the TPC Colorado clubhouse will include a pro shop, grill, bar and dining room, expansive meeting and banquet spaces and a separate pool and exercise facility. The mixed-use master plan is also zoned for a 30-acre commercial component, allowing small businesses to provide products and services in what has been dubbed "Heron Lakes Golf Community."
Just North of this new development, Northern Colorado is also home of the well-established, scenic, world renowned Mariana Butte Golf Course Community in Loveland, offering the same gorgeous views in a well situated area nestled in the foothills right off the river. Wildlife galore, and is also open to the public. The final addition of homes to be added to Mariana Butte, are currently under construction with some lots backing to fairways and open space. You can choose from estate lots, giving the buyer full customization options. The ridge lots will feature several builders and floorplan options as well. Eric Holsapple, Owner/Partner at LC Real Estate Group and LC Home, who is also a TPC member, built his home in Mariana Butte and currently resides there today. "We were the first ones in on the golf course. We built our home in 1995 and still love it here. The neighbors are great! We have Big Thompson River and the new bike trail that the city has tied in here. I can't say enough about it".
Memberships are going to be a lot different per golf course. The new TPC Course in Berthoud is currently accepting a limited amount of non-resident memberships starting at $25,000 for up-front fees and $400 a month until the club house is built, in which time the monthly dues will increase to $500 a month. Since Mariana Butte is a public course it offers memberships at $800-$900 a year, or a hole pass for $35, it brings a lot of its residents, locals and even international guests to this amazing mountain backed course. Be sure to stop by both courses to check out the progress of what's to come! LC Home is currently constructing several homes in Mariana Butte that will have options like walk-out basements, granite or quartz countertops, and all Kitchen Aid Brand appliances. Some lot will have views of the foothills, and others a view of the meticulously manicured golf course. The LC Home Model is now open from Friday through Tuesday, from 10:00 AM to 6:00PM. Stop by 4805 Mariana Hills Circle to check it out, and don't forget to come for the Parade of Homes 2018. For more information or visit our website at www.ridgeatmariana.com
Published by Ron Throupe, Ph.D. University of Denver
Colorado Statewide Multi-Family Housing Vacancy and Rental Survey 4Q 2016