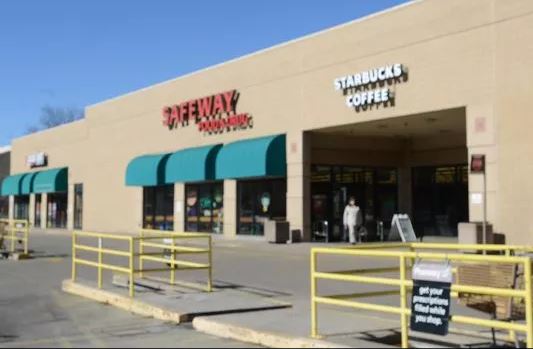 The downtown Safeway building will have a new tenant by Jan. 1 after sitting vacant for more than a year,
24 Hour Fitness plans to install a swimming pool and basketball court as part of about $8 million in renovations and improvements on the site, 460A S. College Ave.
"They've been trying to find a space in downtown for years and this one works," said Eric Holsapple, a principal with LC Real Estate. "I think they will get a lot of demand for it."
LC Real Estate purchased the building that also houses Mulberry Max liquor store, in 2015 for $8.8 million. Safeway, which had been part of the site since 1988, closed in February 2017.
The prime downtown site generated interest from other health clubs and redevelopers.
Holsapple said his first priority for the site was "to put food in there," he said. But "with Lucky's Market going in across the way (in the former Sports Authority site), people didn't feel like there was a demand for two" grocers. And Safeway, which continued to pay rent on the space, "didn't really want another grocer in there," Holsapple said.
LC Real Estate is investing about $5 million into the building for a new roof and HVAC system, and 24 Hour Fitness is putting in another $3 million to turn the grocery space into a health club. The building, built in 1988, "is still in good shape," with about 250 parking spaces in its below-ground and surface parking lot, Holsapple said. The property still has some redevelopment opportunities that could involve 24 Hour Fitness, but the timing isn't right, he said. "We are about 10 years into the (economic) expansion cycle. By the time the project got approved and built, "we weren't confident enough (in the cycle) to do a major construction project now," Holsapple said.
LC Real Estate put about $500,000 into the parking structure when it bought the property, Holsapple said.
24 Hour Fitness representatives declined to comment for this story. It has another Fort Collins club at 2208 E. Harmony Road.
The fitness chain signed a 15-year lease with LC Real Estate.

FORT COLLINS — Developers are hesitant to take on large residential projects in Northern Colorado despite there being an increasing demand for them, citing deterrents of higher construction costs and water-tap fees, and the lengthening of the entitlement process.
Realtors and developers on Tuesday at BizWest's CEO Roundtable on Real Estate said that the short supply of homes coupled with the growing population is driving up home costs in Northern Colorado, impacting companies trying to recruit workers and putting a damper on economic development for the area.

"A homeowner is in good shape, because equity is at an all-time high," said Brandon Wells, president of real estate brokerage The Group Inc. "Current conditions — being undersupplied with costs that are too high — is driving home value appreciation," he said. "We are approaching double-digit appreciation."
Wells and Nathan Klein, a partner with LC Real Estate Group, said homebuyers entering the Northern Colorado market from the Bay Area are bringing "a lot of cash" and the prices here don't bother them. But people coming from the Midwest are concerned about prices here. In the meantime, the high prices are creating a generation of renters.
"We've no product to fill that gap," Wells said. "The entitlement process is now up to three years before a developer can bring a project to market."
Kris Pickett, manager of consulting firm Olsson Associates, said it is difficult to find lots on which to build; plus, there isn't a new wave of developers to take on the challenges.
"There's no money to be made as a developer," Klein said. "Every input is costing more — water, asphalt, wood … and water is a significant undertone here … there needs to be more efficient water-distribution systems."
Kevin Brinkman, chief executive of real estate development firm Brinkman, is concerned over President Trump imposing tariffs on imported steel and aluminum.
"It's amazing how much steel is used in constructing a building," Brinkman pointed out.
Stu MacMillan, owner of MacMillan Development, said right now is a difficult time to develop, because of water driving up costs. He also said in Fort Collins, there is an abundance of requests to develop student housing.
Connie Dohn, co-owner of Dohn Construction Inc., said a shortage of skilled construction labor force adds to the length of time it takes to complete a project, increasing costs.
"There aren't a lot of young people entering the building trades, and we have to pay more than what they (inexperienced) are worth," she said.
Dohn believes there are opportunities in the condominium market, but because of the state's construction-defects laws, it is difficult for a developer to get insurance to cover a project.
"There is a greater risk is this lower end of the market," she said.
The CEOs in the room agreed that a reform of construction-defects laws passed last year to help spur condominium development fell short of its goal.
Wells is fearful that proposed slow-growth initiatives will exacerbate the problems of high housing prices. "We need to solve the condo market problem, he said.
Commercial insights
The hottest sector for commercial construction has been in industrial and warehouse buildings.
Steve Kawulok, managing director of SVN/Denver Commercial LLC, said industrial lots are selling in the region, being termed as "spillover from Denver," as land costs increase in and around that city.
Kittie Hook, a broker with Newmark Knight Frank in Denver, predicted development sprawl from Denver "has already begun to move north" and will continue.
Kawulok observed that a lot of commercial property is being snapped up more and more by outside capital.
"One out of four buyers are bringing in fresh money, and one-third of the dollars being spent is by outside buyers, adding a new dimension," Kawulok said.
Klein said larger investment groups, such as real estate investment trusts, are more apt to invest and build here, because they don't require the same return on investment as a local developer.
Lease rates
Josh Guernsey, a principal at Waypoint Real Estate, said the office market is tight, but lease rates haven't been going up that much. He also said companies are downsizing space to keep rates lower.
Guernsey believes technology is allowing companies to work with less space.
"Now, a person's office can be in their iPad."
Guernsey said companies in the past may have leased space to provide 225 square feet of space per worker, but when they rework their lease, they drop that to 175 square feet per worker. "It's a substantial cost-savings," he said.
Mark Bradley, owner of Realtec Commercial Real Estate Services in Greeley, said as companies recovered from the recession, "they squeezed space and created open office concepts to save money."
New construction of office space in Northern Colorado is almost nonexistent, Klein said, because construction costs are up and lease rates are not keeping pace.
"Current lease rates don't warrant new construction," he said.
Steve Schroyer, director of real estate for Blue Ocean Enterprises Inc., said buying dilapidated buildings and repurposing them is becoming harder to do.
"It's a tough environment. With increasing construction costs, it's hard to complete a project and hold down rents."
Loveland's business community donned its cowboy finery Friday to celebrate the best of 2017 during the "Denim and Diamonds"-themed Chamber of Commerce dinner.
Taking a break from parties in the Embassy Suites ballrooms, the chamber threw its annual party and awards ceremony in the rustic events center at Ellis Ranch west of Loveland
After outgoing board chairman John Metcalf passed the gavel to new chairman Rollin Goering and wished retiring board members well, president and CEO Mindy McCloughan announced the winners of the chamber's annual awards.
Longtime commercial and residential developer LC Real Estate Group was named Small Business of the Year for its business successes and contributions to community organizations.
In 2017, the company built more than 100 homes through its LC Home division, closed more than 100 residential real estate transactions and achieved record commercial brokerage volume, according to the nominating statement.
The company and its employees also are involved in the Loveland Chamber of Commerce, the Food Bank for Larimer County,
Northern Colorado United for Youth Children's Foundation, Habitat for Humanity, the Loveland Housing Authority, and in 2016 started a Coats and Boots program for children at two elementary schools.
Company partner and commercial brokerage manager Nathan Klein accepted the award for the company, with a large group of employees posing for a group photo on stage.
"We are so proud to live here, do business here, be with you here, and we really embrace our tag line: Mindfully Creating Community," he said. "With every project we do, every home we build, every building that we renovate, we really do it proudly knowing that we live here and do business here. ... We all feel like if we all give back just a little bit, we'll make this a great place to live and do business."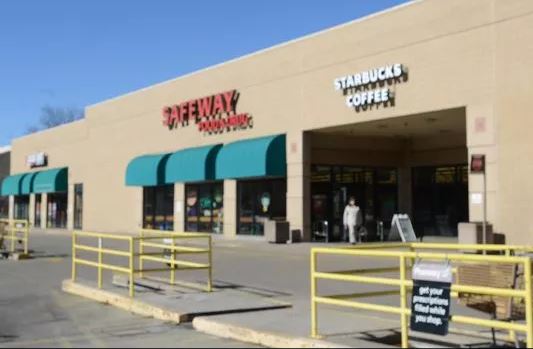 Owners of the Safeway plaza at the crossing of Mulberry Street and College Avenue are eyeing options to bring more apartments to downtown Fort Collins.
Eric Holsapple, a principal with LC Real Estate in Loveland, will meet with city staff Monday to review preliminary plans for a two-story addition to Mulberry Max liquor store and an attached six-story building along College Avenue.
The 120,000-square-foot Safeway center at the high-traffic site takes up a full city block and is home to a hair salon and tax preparer, along with the liquor and grocery stores.
Holsapple said he is looking at all options "to make the site the most it can be."
The property, zoned to accommodate up to nine stories, has 120 parking spaces below ground and surface parking. "The property is a little under-parked," Holsapple said. "We are trying to come up with something that will use the excess parking and increase the density for the highest and best use."
Holsapple's company — named Loveland Commercial LLC at the time — purchased the Safeway plaza two years ago from Illinois-based Green Courte Partners for $8.8 million. Calling it "arguably the nicest corner in Fort Collins," Holsapple said redevelopment could happen in the next couple years with city support, but there is no urgent time frame for the project.
Back in the 1980s, the city approved a plan to build eight stories above the Safeway, but the plan never materialized and could not happen now without razing the grocery store, something Holsapple doesn't want to do.
The building was not engineered to accommodate additional stories, he said. "Even though the approval was there, the engineering was not."
LC Real Estate has since invested in upgrades to the site and found new tenants including Mulberry Max Beer Wine Spirits, a liquor store owned by Chuck Carlson with partners Donald Marostica and Tracy Holsapple.
Marostica owns the plaza with Eric Holsapple, Tracy's husband.
The property is a block south of Uncommon, a six-story, 120 apartment and retail center being built at 310 College Ave., the former Perkins site. It sits across the street from the former Sports Authority which will be redeveloped in the short term as a grocery store, but could eventually accommodate a more dense use such as apartments, offices or retail.
The Safeway center is one of the few downtown properties that comes with an abundance of parking.
Safeway opened at the site in 1988.
The LC Real Estate Group team consists of talented people with over 80 combined years of experience in real estate brokerage, development, property management, marketing, financial analysis, and administration. The team is committed to improving the quality of life in Northern Colorado, where its members live, work, and raise their families.
In 2016, the name was changed to represent the firm's broader role as an integrated real estate company. With Partners and Brokers Eric Holsapple, Blaine Rappé, Nathan Klein, Wayne Lewis, Nick Galluzzo, and Rollin Goering along with an experienced support staff, a variety of real estate aspects are provided. "LC Real Estate Group is able to perform all the functions of the real estate transaction from project introduction to the day of closing," Klein says. He explains that a strategic plan is tailored for each project, placing an emphasis on a high level of personal contact with users, investors, developers and brokers at the local and regional levels. "Through our proprietary database of properties, tenants, brokers, and investors, we are able to have highly targeted direct marketing campaigns that focus on finding the most qualified users or investors for any property."
LC Real Estate Group Aspects
Commercial Development
"With both Thompson Valley Towne Center, North College Marketplace, we started from scratch," Klein says. "We bought the land, got it entitled and built the buildings. That's just one example." LC Real Estate Group has also taken over the Safeway complex on Mulberry and College in Fort Collins and has renovated and re-tenanted. Additionally, a property in Lakewood on the corner of Jewell and Wadsworth is currently in the works. "We bought out the Albertsons lease and right-sized the area for Rite Aid according to their specifications," Klein says. "We have a lease with ARC Thrift Store and a land lease with Auto Zone." It's again an example of taking an under-utilized center and making it more appropriate for the neighborhood needs.
Investment and Management
On several occasions, property has been purchased and improved. "We often found these properties to be under-utilized and so, when we bought them, we would renovate, re-tenant, and work to increase the value." Their new office is a prime example. LC Real Estate Group purchased the 28,000 square foot property at 1712 Topaz Drive near U.S. Highway 34 and Boise Avenue in December of 2014. After renovation, LC Real Estate Group moved its 21 employees and partners into the west end of the building, inhabiting 4,000 square feet of the complex. It has since contracted with other tenants to complete the plan.
LC Home
This arm of LC Real Estate Group provides two different options. The first will be to provide the engineering, entitlement with the involved city and the horizontal (roads and utilities) construction and then offer the lots for development. Klein references the Ridge at Mariana Butte project which offers rare infill development at the world renowned Marianna Butte Golf Course. These will be development ready lots. The second option would also include the vertical (the houses) construction as appropriate.
Brokerage
"What sets us apart here is that we come to brokerage with significant experience in commercial real estate, investment and development, and residential areas," Klein says. The LC Real Estate Group team has such a broad expanse of experience that helps them help their client regardless of the project or need. "We can hold our client's hand through the entitlement process and on through. It's not so much transaction centered but more client centered." And, with the new structural organization, there's more flexibility. "With the rebranding we have empowered our residential sales people from LC Homes to do third party residential property sales." Previously they sold homes built by LC Homes and referred other listings to an outside realtor. "Now we can handle both sides of that. We can handle the sale of our property and, if the client is selling their current home to move into ours, we can also handle that."
The bottom line for LC Real Estate Group's new position is having the ability to work with the client on whatever the need might be; commercial or residential. "We have so much more flexibility and the opportunity to service the whole client is huge. It's very exciting."
Project Qualifications
LC Real Estate Group possesses nontypical experience in a number of areas that make it uniquely qualified to assist in the sale of certain listings and development projects.
Economic Development
The principals have extensive experience working with ED professionals and understanding complex economic development strategies. Founder Don Marostica served as the Director of Economic Development and International Trade for Colorado until January 2011; Eric Holsapple has a Ph. D in Economics and served as Chair of the Northern Colorado Economic Development Corporation (NCEDC) in 2007. He was selected to serve on the Board of CSU's Regional Economics Institute in 2011. Nathan Klein is actively involved with the Loveland Chamber of Commerce and was chairman of the board in 2013. Rollin Goering joined the Chamber Board in 2016.
Political Experience
LC Real Estate Group has unmatched experience working with legislature, state, national and local entities to promote bills, or secure funding for projects including the use of Urban Renewal Areas and Tax Increment Financing. Its team has worked on dozens of projects with city staff and maintain continuous working relationships with them.
University Experience
LC Real Estate Group has extensive experience working with universities in many arenas including teaching, research and founding, directing and helping to secure funding for the Everitt Real Estate Center at CSU. As Chair of the NCEDC, Holsapple negotiated an agreement that brought a regional economist to CSU. LC Real Estate Group remains active in the Everitt Real Estate Center and maintains a booth to expose company listings at each of the regional real estate events.
Negotiation Expertise
With more than 80 years of combined development and brokerage experience, partners and brokers have negotiated deals with companies ranging from IBM to Mobile Oil to King Soopers/Kroger and totaling several hundred transactions with a transaction value totaling several hundred million dollars.
Financial Expertise
The company prides itself on being one of the most analytical financial experts in the business. Its team has multiple degrees in economics, finance, real estate, and accounting and understands the unique aspects of what it takes to make a deal feasible. LC Real Estate Group's experience with public/private partnerships and unique financing mechanisms forms a unique background for financing large projects.
LC Real Estate Group may have started small but, in 20 years, it has blossomed into an impressive operation. It began when Don Marostica and Eric Holsapple connected over common interests. "I took a sabbatical after I received my PhD in economics from CSU," Holsapple says. "I met Don, moved into his conference room and went to work. I started helping out with financing on a few projects and we hit it off."
Deciding to partner officially, they purchased Moore Commercial, and changed the name to Loveland Commercial LLC, creating a real estate development and brokerage company. The vision was to improve the quality of development in Northern Colorado. Blaine Rappé joined them the next year.
Over time, Holsapple says, three segments evolved. "We were doing mostly established development and then added brokerage. The investment and management piece began in 1999 with Thompson Valley Center. It was our first big commercial investment. We were doing mostly what I call horizontal development. We put in the roads and streets and sold lots to developers."
Nathan Klein joined them in 2004 as a CSU intern and, shortly after graduation, began full time work. "In 2005, Nathan began his work and grew the brokerage business by five times what we used to do," Holsapple says.
But times changed and so did the company's focus. "In 2006 and 2007, building basically stopped and builders reorganized. We still had 150 lots and no one interested in building on them.
So, in 2008, we created Midtown Homes and began with Boise Village North," he explains. Since then, this arm of the company has built a variety of houses, including significant entry-level and affordable neighborhoods such as Pine Tree Village.
The winds of change once again shifted and the partners were faced with a new direction. In 2009, they were called upon to develop North College Marketplace in Fort Collins. More opportunities developed and the company's efforts expanded. In fact, over the past two decades, the firm has had an impressive impact. It has completed two King Soopers shopping centers (one in Loveland and one in Fort Collins), developed more than 2,500 residential lots and built almost 500 homes, including ongoing projects in Tulip Creek in east Loveland, Spring Creek in Fort Collins and Fox Run in Greeley. In addition, it has expanded its investments and developments into the Denver area and Colorado Springs.
The partners of Loveland Commercial LLC began to look at the broader view of what they had to offer. "We are clearly a regional player in the marketplace," Holsapple says. "And we realized that we needed to match our image to the reality of our work."
The firm's name was changed to LC Real Estate Group LLC to lead to better recognition and acknowledge all the components of the business. Midtown Homes, for example, is now LC Home and part of the same company.
"With different names for the residential and commercial divisions, they appeared to be different companies," Klein says. "But, now, on every company vehicle and/ or commercial and residential project or listing, the LC Real Estate logo will appear. Not to mention we are now positioned to take care of the entirety of a client's real estate needs, regardless of whether that is commercial or residential in nature."
Earlier this year, the firm moved into 4,000 square feet of a 28,000-square-foot building it owns at 1712 Topaz Drive near U.S. Highway 34 and Boise Avenue. After remodeling the interior, LC Real Estate Group moved its 21 employees and partners into the west end of the building in early March.
Eric J. Holsapple, MBA (CSU-84), PhD (CSU-96), CCIM, has worked in commercial real estate since 1984, and managed the U.S. operations for an international development firm until 1989. Holsapple started his own business in 1990 and concurrently earned his PhD in Economics from Colorado State University in 1996.

Since founding Loveland Commercial, a real estate brokerage and development firm, with partner Don Marostica in 1996, Holsapple has and has entitled and developed over 2,000 lots in residential sub-divisions including three affordable housing subdivisions as well as numerous commercial projects including the Thompson Valley Towne Center in Loveland, and North College Marketplace in Fort Collins, both anchored by King Soopers.

Holsapple has recently diversified into homebuilding and is currently building homes under "Midtown Homes" in Loveland and has built 45 homes in the last 12 months, despite a recession in the industry. Holsapple has lectured in real estate principles, finance, market analysis, and development classes for Colorado State University since 1995 and has published articles in finance, regional economics, international real estate, and real estate market analysis.

Holsapple was a founder and has twice served as the Interim Director of the Everitt Real Estate Center at Colorado State University. Holsapple and Marostica endowed the Loveland Commercial Chair in Real Estate at Colorado State University, currently held by Steve Laposa. Holsapple has previously served as Chair the Board of Directors of the Northern Colorado Economic Development Corporation and on the Board of Directors of Loveland Habitat for Humanity.